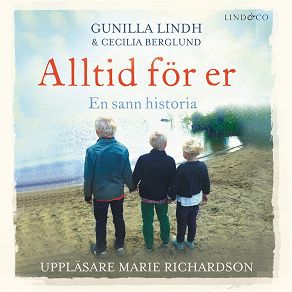 Isbn:
978-91-7461-355-1
Publisher:
Lind & Co Förlag
Category:
Memoirs & Biography
Medicine & Health
Accessible since:
October 2014
Narrator:
Marie Richardson
Length: 7 hours 34 minutes
---
Alltid för er
Min man och jag var lyckligt gifta. Vårt liv bestod av mycket arbete, rikt umgänge, resor, vandringar i Alperna och operakvällar. Livet var bekymmerslöst. Problemen i vår relation började när jag upptäckte att vår äldste son var annorlunda.

Under loppet av nio månader slogs mitt liv i spillror. Alla våra tre barn diagnostiserades med autism, utvecklingsstörning och betydande utvecklingsförsening till följd av en ytterst ovanlig genmutation med endast tre kända fall i världen.

Min man lämnade mig och barnen för ett nytt liv utan oss i Tyskland. Han ville som han sa köra Porsche igen. Mamma avled i bukhinnecancer och pappa drabbades av en allvarlig sjukdom. Jag förlorade nästan fotfästet.

Det här är min berättelse.

Alltid för er är en gripande historia om kärlek och passion, om djup personlig tragedi och om vägen tillbaka till ett nytt, annorlunda liv.

GUNILLA LINDH (f. 1968) är utbildad civilekonom på Handelshögskolan i Stockholm och har en Master of Science in Economics and Business. Sedan studierna har hon varit verksam som managementkonsult.

CECILIA BERGLUND (f. 1967) är utbildad jurist på Stockholms universitet. Hon arbetar idag som skribent och auktoriserad Stockholmsguide.
Listen to sample
---