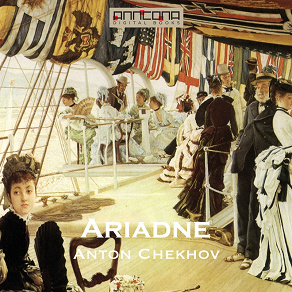 Isbn:
978-91-7605-616-5
Publisher:
Anncona Media
Category:
Short stories
E-single
In english
Accessible since:
December 2015
Narrator:
Kirsten Ferreri
Length: 53 minutes
---
Ariadne
Ariadne is a short story by Anton Chekhov first published in English in 1916 as part of the collection The Darling and Other Stories.
The story begins on a steamer bound for Sebastopol, where the narrator meets Shamokhin, who has become a hostage to love. Shamokhin tells the story of his helpless love for Ariadne. She was his neighbor, a beautiful but cold young woman, "a nightingale made of metal," who challenged him to fall in love with her. When Shamokhin refused to elope with her, she eloped with Lubkov, a married man with four children.
Months later, Ariadne wrote again to Shamokhin, begging him to join her in Italy. When Shamokhin finally caved in and went to her, he discovered that Ariadne and Lubkov were lovers. A year later, Lubkov had used up all his money and returned to his wife. Shamokhin then became Ariadne's lover. Now his money is almost gone and his life is destroyed, but he feels helpless to leave her.
Total Running Time (TRT): 53 min.
Anton Pavlovich Chekhov (1860-1904) was a Russian physician, dramatist and author who is considered to be among the greatest writers of short stories in history. His career as a dramatist produced four classics and his best short stories are held in high esteem by writers and critics.
Chekhov had at first written stories only for financial gain, but as his artistic ambition grew, he made formal innovations which have influenced the evolution of the modern short story. His originality consists in an early use of the stream-of-consciousness technique, later adopted by James Joyce and other modernists, combined with a disavowal of the moral finality of traditional story structure. He made no apologies for the difficulties this posed to readers, insisting that the role of an artist was to ask questions, not to answer them.
Listen to sample
---