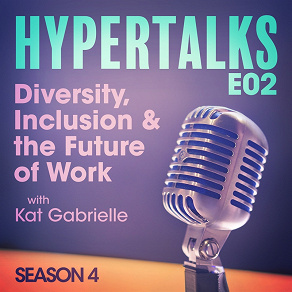 Isbn:
978-87-2617-685-8
Publisher:
Saga Egmont
Category:
Computing & IT
Accessible since:
April 2019
Narrator:
Hyper Island
Length: 51 minutes
---
Hypertalks S4 E2
In this episode of HyperTalks we shine a light on Diversity, Equity
and Inclusion in the Creative and Tech Industry. Together with change-maker Kat Gabrielle, coming straight from some of NYC's leading agencies, we will take you through the future of work, what it needs and what you need to lead the change. Kat is the CEO & Co-Founder of 2050Work - a diversity jobs site that connects people of color to opportunities in creative and tech. She has a background in Human Resources and Operations at NYC's leading creative agencies and writes frequently on the topics of intersectionality, diversity, equity and inclusion in the workplace. Her personal and professional mission is to ensure that underrepresented groups are no longer underrepresented in innovative industries and empowers professional leaders through her work as an organizational change consultant. Hosts: Nitin George & Linn Jansson

We are five Digital Data Strategy students from Hyper Island in Stockholm. Every month we will publish a new episode where we talk about breathtaking subjects with interesting guests.
Listen to sample
---