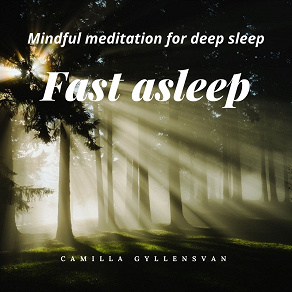 Fast Asleep
FAST ASLEEP - Get Perfect Deep Unbroken Sleep this hypnotic mediation teaches you to use the power of your mind to dramatically improve your sleep and quality of life. 
This audio will allow you to wake up each morning more rested and more energized for the day. It will also help you to fall asleep easier at night, and avoid tossing and turning in bed struggling to get to sleep.
People start to experience results within the first 21 days, so make sure you listen to the audio every day. When listening regularly, you will notice that your sleep quality improves and that you fall asleep faster and wake up rested in the morning.
You can start listening daily for 21 days for best results, we recommend that you continue to listen regularly


Camilla Gyllensvan has worked in the field of behavior change since 2005, and is an Internationally certified Trainer of NLP, Hypnosis, Time Line Therapy® NLP Coaching, and also trained in Mindfulness and CBT. 
Camilla conducts training for individuals and organizations in Communication and Leadership. She is a respected educator and expert on rapid lasting change. Over the past decade Camilla has coached  her clients in mental training, meditation and hypnosis as a complement to NLP coaching with good results. Camilla is a well known author and has written several books and audios in the field of  personal development, Hypnosis and NLP. 
For more info visit www.camillagyllensvan.com
Listen to sample
---