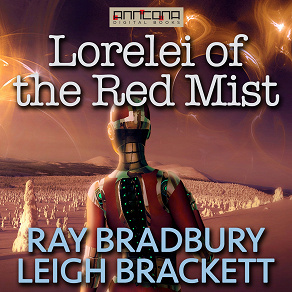 Isbn:
978-91-7759-727-8
Publisher:
Anncona Media
Category:
Novels
Fantasy & Sci-Fi
In english
Accessible since:
September 2021
Narrator:
Kirk Ziegler
Length: 2 hours 38 minutes
---
Lorelei of the Red Mist
Lorelei of the Red Mist is a science fiction novella by Ray Bradbury and Leigh Brackett.
Ray Starke, a small time criminal, crashes his shuttle while trying to escape pursuit after robbing a payroll worth millions of credits. When he comes to there is an alien woman telling him he's dying but she will put his consciousness in another body and help him escape using telepathy.  
Published in Planet Stories in 1946, this story is a great mix of Golden Age Sci Fi and Swords & Sorcery. The first half was written by Brackett and when she was pulled away by other commitments the publisher gave it to a new writer, Ray Bradbury, to finish. 
It is a sort of prequel to the Stark character developed by Brackett where a weak puny man is transferred into the body of a Conan like superman and then cruses through adventure after adventure, always rescuing damsels who are tough and feisty.  
The publisher blurb says "He died—and then awakened in a new body. He found himself on a world of bizarre loveliness, a powerful, rich man. He took pleasure in his turn of good luck ... until he discovered that his new body was hated by all on this strange planet, that his soul was owned by Rann, devil-goddess of Falga, who was using him for her own gain."
Lorelei of the Red Mist was first published in Planet Stories magazine in 1946. Reading by Kirk Ziegler, total running time (TRT): 2 hours, 51 min. Also available as e-book (ePUB).
Ray Bradbury (1920 - 2012) was an American fantasy, science fiction, horror and mystery fiction writer. Best known for his dystopian novel Fahrenheit 451 (1953) and for the science fiction and horror stories gathered together as The Martian Chronicles (1950) and The Illustrated Man (1951), Bradbury was one of the most celebrated 20th-century American writers. Many of Bradbury's works have been adapted into comic books, television shows and films. 
Leigh Douglass Brackett (1915-1978) was an American author, particularly of science fiction, and has been referred to as the Queen of Space Opera. She was also a screenwriter, known for her work on such films as The Big Sleep (1946), Rio Bravo (1959) and The Long Goodbye (1973). She was the first woman shortlisted for the Hugo Award.
Listen to sample
---