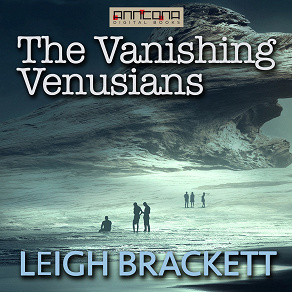 The Vanishing Venusians
The Vanishing Venusians is a science fiction novella by Leigh Brackett.
For years they had wandered the eternal seas of Venus, seeking the home that was their birthright, death walking in the wake. And now they were making their final bid – three of them fighting toward the promised land, battling for a hopeless cause. 
Matt Harker and his people have journeyed for far too long. A rag-tag group of Earthmen and Venusians floating on the Sea of Morning Opals. Floating without a home and with very little hope. Victimized by hostile natives, burning fevers, bad soil, and bad luck. 
When land is sighted Harker makes the decision to scale the mountainous terrain in the dim hopes of finding a new home. With two companions they ascend to encounter unknown malevolent alien beings. Harker thought he'd be lucky if they found a habitable land, but now he thinks he will be lucky to just survive!
The novella was included in The Best of Leigh Brackett (Ballantine Books, 1977).
The Vanishing Venusians was first published in Planet Stories magazine in 1945. Reading by Kirk Ziegler, total running time (TRT): 1hour, 18 min. Also available as e-book (ePUB).
Leigh Douglass Brackett (1915-1978) was an American author, particularly of science fiction, and has been referred to as the Queen of Space Opera. She was also a screenwriter, known for her work on such films as The Big Sleep (1946), Rio Bravo (1959) and The Long Goodbye (1973). She was the first woman shortlisted for the Hugo Award.
Listen to sample
---