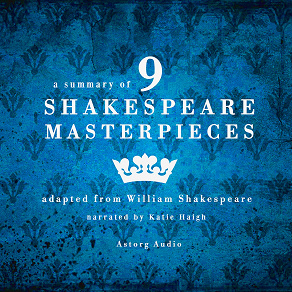 Isbn:
978-28-2111-316-9
Publisher:
Saga Egmont
Category:
Plays
Accessible since:
June 2022
Narrator:
Katie Haigh
Length: 3 hours 58 minutes
---
A Summary of 9 Shakespeare Masterpieces
Have you ever been to a King Lear performance with the impression of not having understood everything? It's normal. Shakespeare's plays are the most beautiful of the theatrical repertoire, but you can not go to a Shakespeare play if you do not have a minimum prepared this show: understand the issues, characters, context, cultural references or historical is indispensable. The same is true if you intend to read a play by William Shakespeare: our summaries will help you better understand what you have read. The list of the 9 Shakespeare masterpieces with summaries to listen : Hamlet, Prince of Denmark ; Romeo and Juliet ; King Lear ; The Merchant of Venice ; Macbeth ; Othello ; As you like it ; The Tempest ; Midsummer nights dream. Shakespeare is regarded as the greatest writer in the English language and the world's best dramatist. His plays have been translated into every major language, and are the most performed ever. His work contains stunningly modern insight, witty jokes and soaring passion; it is an endless source of amazement and inspiration.


Listen to sample
---