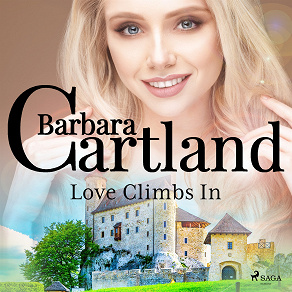 Isbn:
978-87-2829-384-3
Publisher:
Saga Egmont
Category:
Novels
Historic facsimile
Romance
Accessible since:
July 2022
Narrator:
Sarah Lambie
Length: 4 hours 11 minutes
---
Love Climbs In
The impetuous and dashing Marquis of Troon is to marry the disreputable Lady Dilys Powick against the advice of his closest friends. In celebration he arranges a steeplechase event full of prizes, but one of the guests suddenly dies from a heart attack. The Marquis is shocked to hear that he has been named in the will as the guardian of the guest's daughter!

Throw in a kidnapping, crime and a dangerous trip to London, and you will be gripped by this story.


In her lifetime, British author Barbara Cartland wrote over 700 novels and was most famous for her contemporary and historical romances. A prominent figure in London society, the young Cartland began her writing career as a gossip columnist for the Daily Express. It was partying in 1920's London that gave her inspiration for her first book, 'Jigsaw', a racy society thriller.

After marrying into the McCorquodale family, she began writing romance and holds a Guinness World Record for the most number of books published in one year: 191. Her books have been translated into many different languages, as well as adapted for stage and screen. She is beloved the world over and even counts the young Princess Diana as one of her many fans.
Listen to sample
---