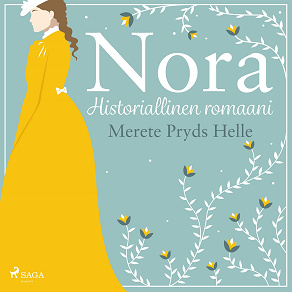 Isbn:
978-87-2680-482-9
Publisher:
Saga Egmont
Category:
Novels
Historic facsimile
Accessible since:
September 2022
Narrator:
Charlotta Hagfors
Length: 5 hours 34 minutes
---
Nora
Henkeäsalpaavan kaunis historiallinen romaani itsenäisestä naisesta miesten maailmassa.

Noran elämässä miehet ovat aina kohdelleet häntä kuin lasta – ensin Noran isä, sitten hänen aviomiehensä Torvald. Ja Nora on aina sopeutunut. Vain naiset ovat haastaneet häntä älyllisesti ja seksuaalisesti. Nora elää kaksoiselämää alistuvana vaimona ja itsenäisesti ajattelevana yksilönä.

Masennukseen taipuvainen Torvald muuttuu etäiseksi heidän esikoisensa syntymän jälkeen. Kallis hoitomatka Italiaan voisi auttaa, joten Nora väärentää isänsä allekirjoituksen ja ottaa lainan matkaa varten. Mutta mitä enemmän Torvald Italiassa palautuu, sitä enemmän valtaa hänellä on Noraan ja sitä tyhjemmältä Norasta tuntuu.

"Nora" pohjautuu Henrik Ibsenin mestariteokseen "Nukkekoti", joka herätti aikoinaan kohun kritisoimalla naisten kahlehdittua asemaa. Merete Pryds Hellen romaani syventää Ibsenin legendaarisen päähenkilön kehitystarinaa kontrolloidusta tytöstä vapaaksi ja itsenäiseksi naiseksi.



It is simply breathtakingly beautiful, and Merete Pryds Helle has brilliantly captured the characters and themes of the original text while bringing us a step deeper and closer to the characters.
-Bogtanken.dk

Merete Pryds Helle (s. 1965) on tanskalainen kirjailija. Hänen esikoisteoksensa oli novellikokoelma 'Imod en anden ro' (1990). Siitä lähtien hän on julkaissut novelleja, runoja, romaaneja, lasten- ja nuortenkirjoja, kuunnelmia sekä paljon, paljon muuta. Vuonna 2016 hän sai Politiken-lehden kirjallisuuspalkinnon ja Tanskan kirjakauppiaiden myöntämän Kultaiset laakerit -kirjallisuuspalkinnon romaanistaan 'Folkets skønhed'.
Listen to sample
---