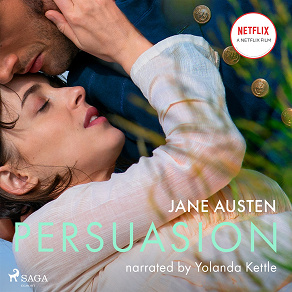 Isbn:
978-87-2842-586-2
Publisher:
Saga Egmont
Category:
Novels
Historic facsimile
Romance
Accessible since:
October 2022
Narrator:
Yolanda Kettle
Length: 9 hours 9 minutes
---
Persuasion
'All the privilege I claim for my own sex (it is not a very enviable one; you need not covet it), is that of loving longest, when existence or when hope is gone.'

Twenty-seven-year-old Anne Elliot is well past the bloom of her youth. Having been persuaded by her friends and family to break off her happy engagement with the young naval officer Wentworth, whose station lies beneath her own, Anne is seemingly destined for spinsterhood.

However, when Wentworth later reappears in Anne's life, tension and regret are rife and it is unclear whether the two can move past their shared history, or whether some decisions can never be undone.

Superbly witty, yet at the same time subtle and heartbreaking, 'Persuasion' is Jane Austen's last novel and, arguably, one of her best.

Bought to the screen in 2007 with the award-winning Sally Hawkins, and then again in 2022 for Netflix's sassy adaption with Dakota Johnson, 'Persuasion' is a story of second chances that stands the test of time 'Persuasion' was further chosen as the first book in TikTok's Book Club which launched in July 2022.




Jane Austen (1775-1817) is one of the most beloved British writers of all time. During her short life she published six novels: 'Sense and Sensibility', 'Pride and Prejudice', 'Mansfield Park', 'Emma', 'Northanger Abbey' and 'Persuasion', which are all considered literary classics. Her writing is full of sharp observations on the society in which she evolved, as well as ripe with timeless irony, and a solid dose of humour. She has created immortal characters that have inspired countless authors, novels, and movies including 'Bridget Jones' and 'Clueless'.
Listen to sample
---