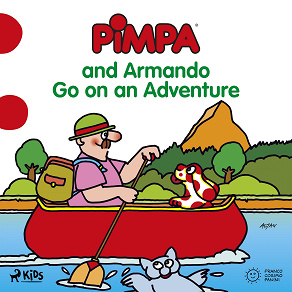 Pimpa and Armando Go on an Adventure
An exciting adventure awaits Pimpa, or rather, lots of small adventures in one big story!

When Pimpa convinces Armando to take her on a trip, she finds out that there's a whole world waiting to be explored! With a bit of help from Nino the penguin, Rosa the cat, and Fritz the eagle, their adventure is destined for greatness.

So grab your backpack and your favourite snack, and join Pimpa and Armando as they go on a trip that is full of fun, quirky surprises, and new discoveries.

A tale of friendship and exploration, ´Pimpa and Armando go on an adventure´ is perfect for early readers, or anyone who would like to join the famous, red-spotted dog on a thrilling adventure!

Cartoonist Francesco Tullio Altan created Pimpa as a present for his daughter in 1975. Since then, more than 150 stories featuring Pimpa have been published, selling more than 6.5 million copies.

Pimpa has also been the star of several successful TV adaptations produced by the major Italian broadcaster RAI.

Now Pimpa is ready to be a loyal companion to a new generation. The books are perfect for both young children and their older siblings, and her stories can be enjoyed by the whole family.

Pimpa is a cheerful, red-spotted dog. Accompanied by her friend and owner Armando, a man with an impressive moustache and a bowler hat, the two embark on colourful and touching adventures together. Every story features a world of new friends, imagination and curiosity.
Listen to sample
---