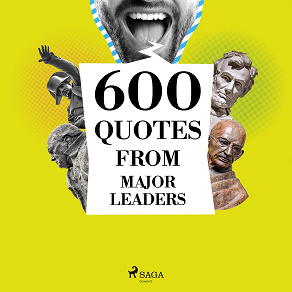 600 Quotes from Major Leaders
Dive into the wits and wisdom of famous world statesmen in this intriguing collection of quotes!

From World War giants and Ancient Roman Emperors to French Generals and American Presidents, this carefully crafted collection of quotes is guaranteed to entertain, amuse, and inspire.

'600 Quotes from Major Leaders' is ideal for those needing a bit of extra philosophical guidance and inspiration throughout their day.

Winston Churchill (1874-1965) was the leader of Britain, and Charles de Gaulle (1890-1970) was the leader of France during the Second World War.

Marcus Aurelius (121–180) was a famous Emperor of Ancient Rome, while French General Napoleon Bonaparte (1769 -1821) conquered vast swathes of Europe.

Inspirational American President Abraham Lincoln (1809 - 1865) abolished slavery and won the American Civil War, while Indian pacifist and civil rights activist Mahatma Gandhi (1869-1948) famously led India to independence from the British.
Listen to sample
---