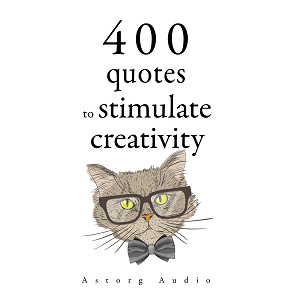 500 Quotes to Stimulate Creativity
'500 Quotes to Stimulate Creativity' is the ideal read for anyone struggling to get their artistic juices flowing.

From Shakespeare to Einstein, this collection is sure to provide interesting reflections on a plethora of topics from some of the greatest minds known to man.

Packed with memorable maxims from writers, poets, scientists, and artists, it's an ideal gift for anyone with a creative soul.



Born in Lyon, Antoine de Saint-Exupéry (1900 – 1944) was a pioneering pilot, who went on to establish a career as a respected poet, author, and journalist. Renowned as one of the world's greatest playwrights, William Shakespeare (1564 – 1616) wrote 38 plays and over 150 poems.

Albert Einstein (1879 – 1955) was a theoretical physicist, who is best remembered for developing the Theory of Relativity. Born in Italy, Leonardo da Vinci (1452 – 1519) was an artist, inventor, scientist, and sculptor, who is best known for painting the 'Mona Lisa.' Oscar Wilde (1854 – 1900) is considered one of the most important poets, playwrights, and wits of all time.
Listen to sample
---