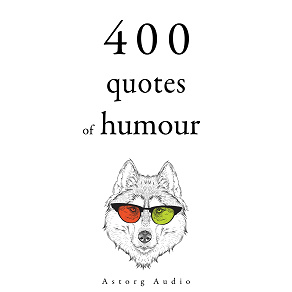 500 Quotes of Humour
A collection guaranteed to put a smile on your face, '500 Quotes of Humour' features the sharp wit and wisdom of the likes of Oscar Wilde, Albert Einstein, George Bernard Shaw, Groucho Marx, and Woody Allen.

Some of the leading figures in their fields, these writers, actors, comedians, physicists, and playwrights are responsible for some of the most humorous quotes of all time.

They are collected together in this hilarious volume that is ideal for those looking for a quick laugh.

Oscar Wilde (1854-1900) is one of the most celebrated writers in history and is best known for his novels 'The Picture of Dorian Gray', and 'The Importance of Being Earnest'. Woody Allen (1935- )is a celebrated writer, director, comedian, and actor, famous for films such as 'Manhattan', 'Annie Hall', and 'Hannah and Her Sisters'.

Groucho Marx (1890-1977) was a comedian, writer, and actor, famous for his sharp wit and his many films which include 'Duck Soup' and 'A Night at the Opera.' Albert Einstein was one of the greatest and most influential physicists of all time. He is best known for developing the theory of relativity. George Bernard Shaw (1856-1950) was an Irish playwright and political activist, famous for his plays such as 'Pygmalion' and 'Man and Superman'.

Listen to sample
---